Simon grows everything he eats in Strasbourg.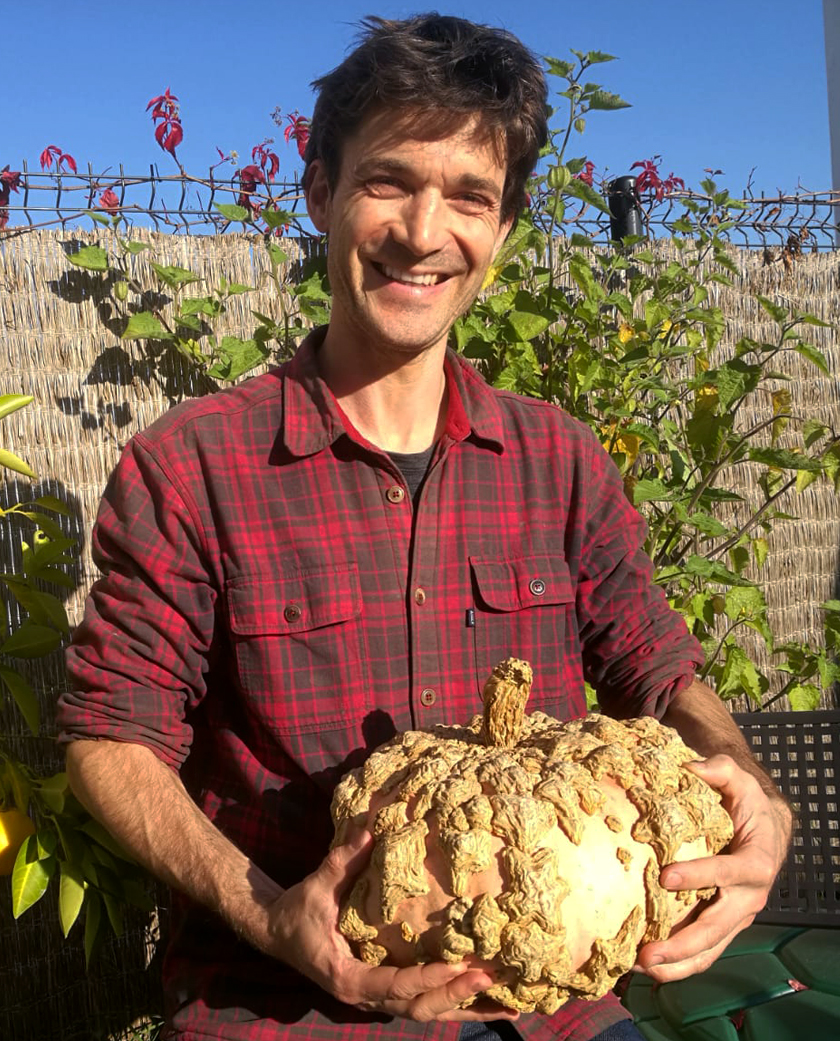 Listening to him talk, it doesn't sound like Simon has always had a passion for gardening…
But it's pretty rare for kids to stop in the fields of Alsace to collect corn kernels and grow them in their rooms!
In fact, Simon is not only passionate about gardening, but also about all of nature and our relationship to it, as humans. This even led him to get a degree in geography, because it combines his curiosity about our society and his attachment to nature.
So you can have fascinating discussions with him during your workshops.
You could chat around the Crops of the Future workshop (a film that changed things for him, so it's far from being a lemon) or share some anecdotes (he'd tell you with pride that he inspired his parents to grow their own vegetable garden, despite never having had a green thumb before), or just to chat about food (that always gets Simon talking!).
Speaking of food: have you heard of the goji berry?
He grows it in his garden. We call it the anti-aging berry.
And if we could, we'd eat a ton of it to return to his childhood with him. That way, we could go to the cornfields with him and learn to become talented gardeners at such an early age too.
A child who wakes up early and eager to grow things can't possibly be a bad apple.
Future companies take care of their own, the others and the planet.
We're ready to sow this idea with you.
The slug, a gardener's worst enemy!
If, like me, you use mulch to cover the soil in your garden, you have to deal with constant slug attacks. Here are some tips for learning to live with it:
In permaculture, it's better to make ecosystems more complex rather than try to suppress predators. That means that we're not going to try to eradicate the slugs, because either way, it's a losing battle.
The first few years are often the most difficult, sometimes with lots of damage to your garden. While waiting for a balance to be established, I suggest that you take great care of your seedlings, which are prime targets for slugs. It's important to plant as many seedlings as possible in pots or buckets (especially squash, zucchini, lettuce, cabbage, and even beans). Later, when you transplant them into the ground, your plants will already be more resistant to slug attacks.
Additionally, for 2 to 4 weeks, mulch must be kept away from seedlings or young plants in order to avoid giving the slugs a habitat.
If the slug attacks are really aggressive, you can surround your seedlings with slug-repellent pellets approved for organic farming. Any other traps and techniques that our grandmothers taught us aren't really effective. The beer trap isn't recommended either, because it kills many other insects, and because we prefer to save the beer for the gardener.
After two or three years, if your garden has held up, the slugs' predators will have multiplied, which will curb the slugs' proliferation and the damage they cause. The hedgehog is a known predator of slugs, but it's not the only one. The slowworm is fond of slug eggs, as well as those of insects such as ground beetles.
In any case, you should always sow and plant more than necessary, keeping in mind that part of the harvest will be sacrificed to the slugs.
One last tip. Try watering in the morning rather than in the evening. If you water in the evening, the humidity will last all night, the slugs will get a little too comfortable, and they'll take that opportunity to nibble on your vegetables until dawn.
By Simon Le Mellec, Noocity grower in Strasbourg