A day in a life of a Noocity Grower trailer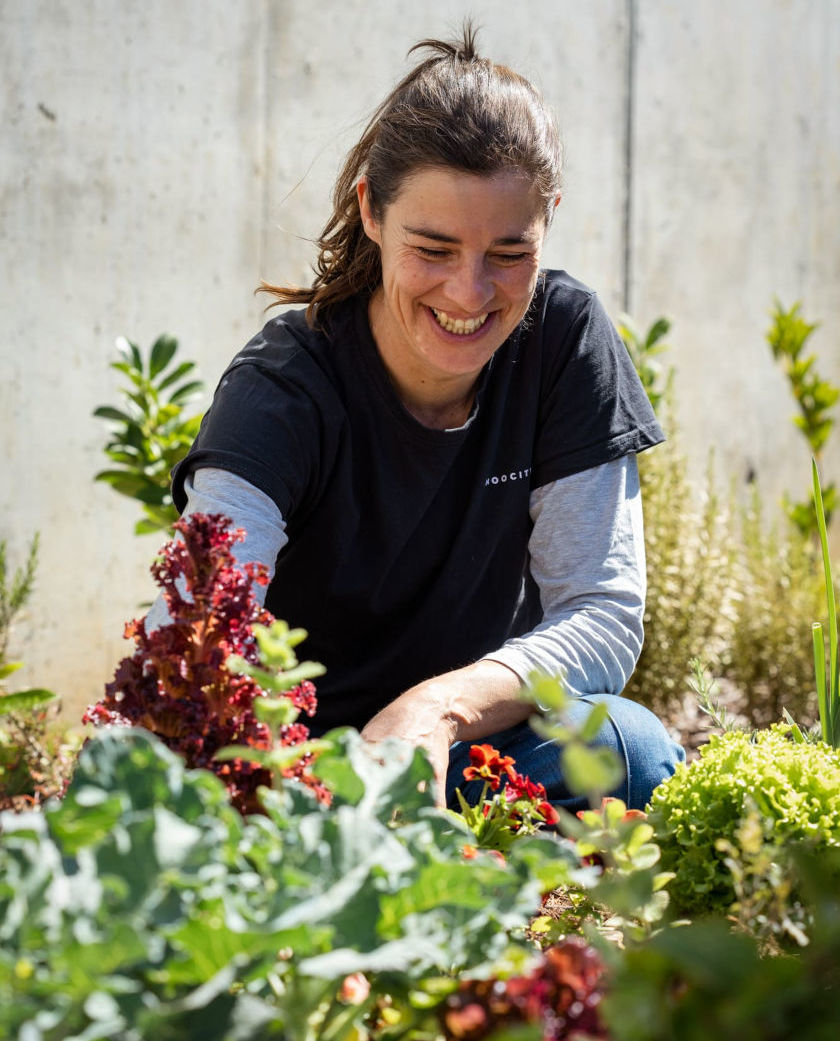 At 18 years old, on the path to university, very few people know what they want to do in life. But Filipa knew perfectly well. Born in Porto, she got her bachelor's degree in environmental engineering and her Master of Advanced Studies diploma in environmental education, because she hoped that in the future, she would only ever work outdoors, surrounded by nature. But that's not what was waiting for her — at least, not right away. She spent her early years in the industry, as a consultant in charge of ensuring compliance with environmental laws. Sitting at a desk, in front of a computer, surrounded by reports and files, with closed doors hiding the sky. She felt like a caged bird.
Until 2008, when she discovered a garden near her house in Porto: she saw it as a potential way out. From 2008 to 2014, she devoted her time to this space, then to a community vegetable garden in Porto. In doing so, her profound respect for the earth gave her courage: she resigned from her job as a consultant.
But it wasn't goodbye forever: she continues to work as a consultant today but manages to devote time and space to what really makes her happy. From 2017 to 2018, she joined a consumer cooperative to professionalize her love for the earth, followed by a one-year hiatus to venture into a master's degree in organic farming, of which she is currently in her second year.
Her favorite days are the ones she spends on the land she rents in Miramar, where she devotes herself to a horticultural nursery project that she produces for farmers and for Noocity, which she recently joined as a grower in Porto, in early 2020. As a member of Regenerar — the Portuguese Agroecology Solidarity Network (via contact with AMAP, the Association for the Maintenance of Small-scale Agriculture), she is right where she wants to be: outside the cage… hands in the earth.
Future companies take care of their own, the others and the planet.
We're ready to sow this idea with you.
An equisetum infusion, a magic potion for the vegetable garden.
In the garden, an infusion of equisetum (including the most common species in Europe, commonly known as horsetail) has two functions. First, it is an anti-fungal product that can prevent the spread of fungi on plants, which is particularly important during seasons when mild temperatures and humidity are combined (spring, autumn, and summer) — the perfect conditions for these harmful microorganisms to thrive.
In addition, equisetum is rich in choline, a micro-nutrient which, applied in small doses, immediately makes a huge difference to plants: they look greener and grow better. No kidding: it only takes three or four days to see the difference.
So thanks to its anti-fungal and nutritive properties, equisetum is always an asset, especially for nightshade family (tomato, beetroot, potato plants) and gourd family (zucchini, pumpkin), which are very sensitive to fungi.
And don't worry: applying this infusion during the dry season won't cause any damage. Your plants will just become more beautiful and grow faster!
By Filipa Almeida, Noocity grower in Porto