Happiness is growing in the garden thanks to Noocity.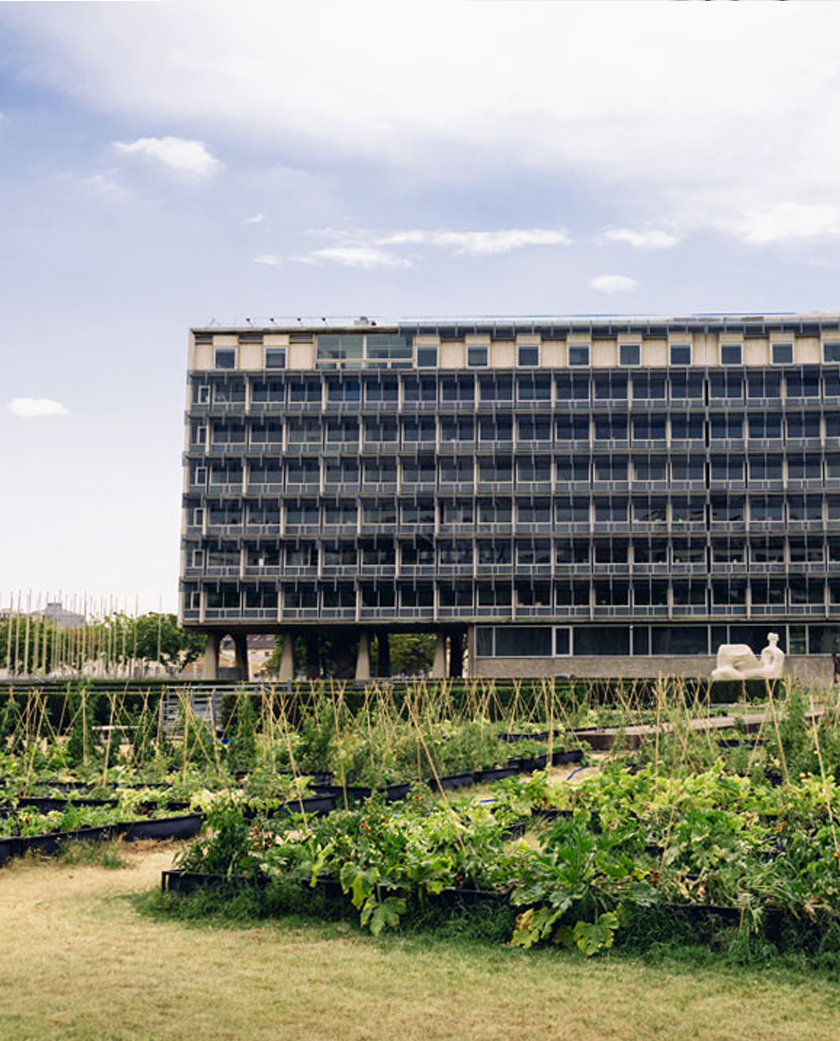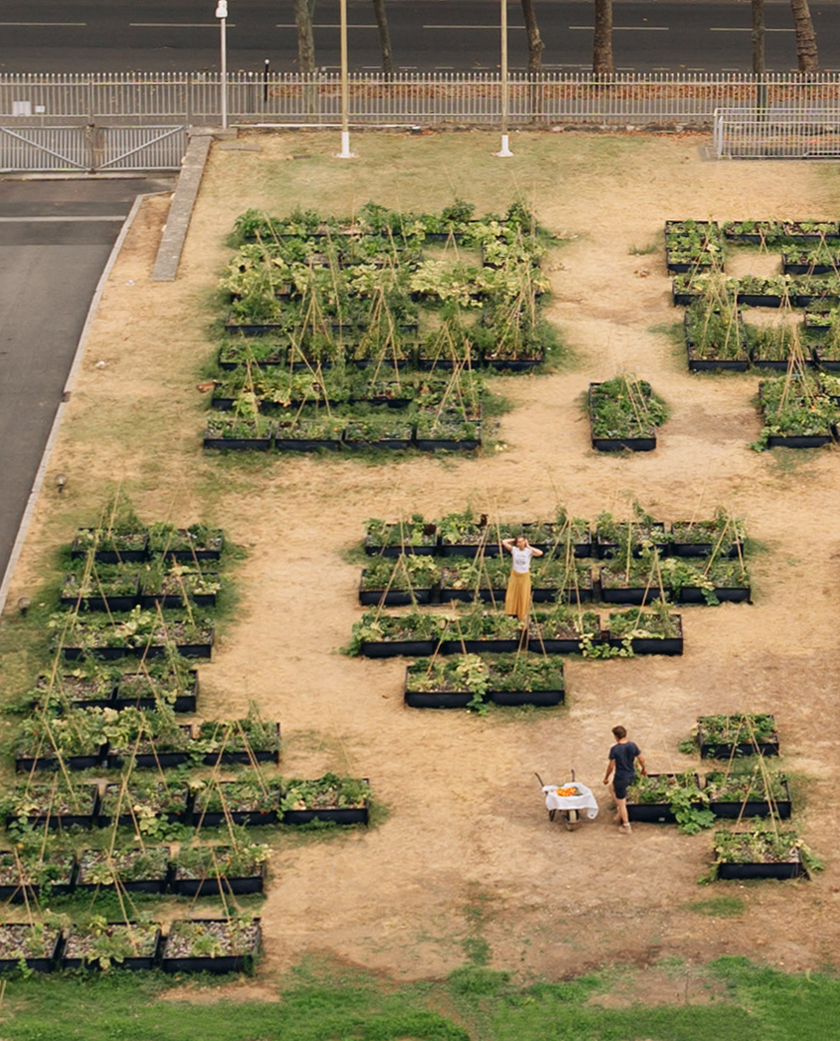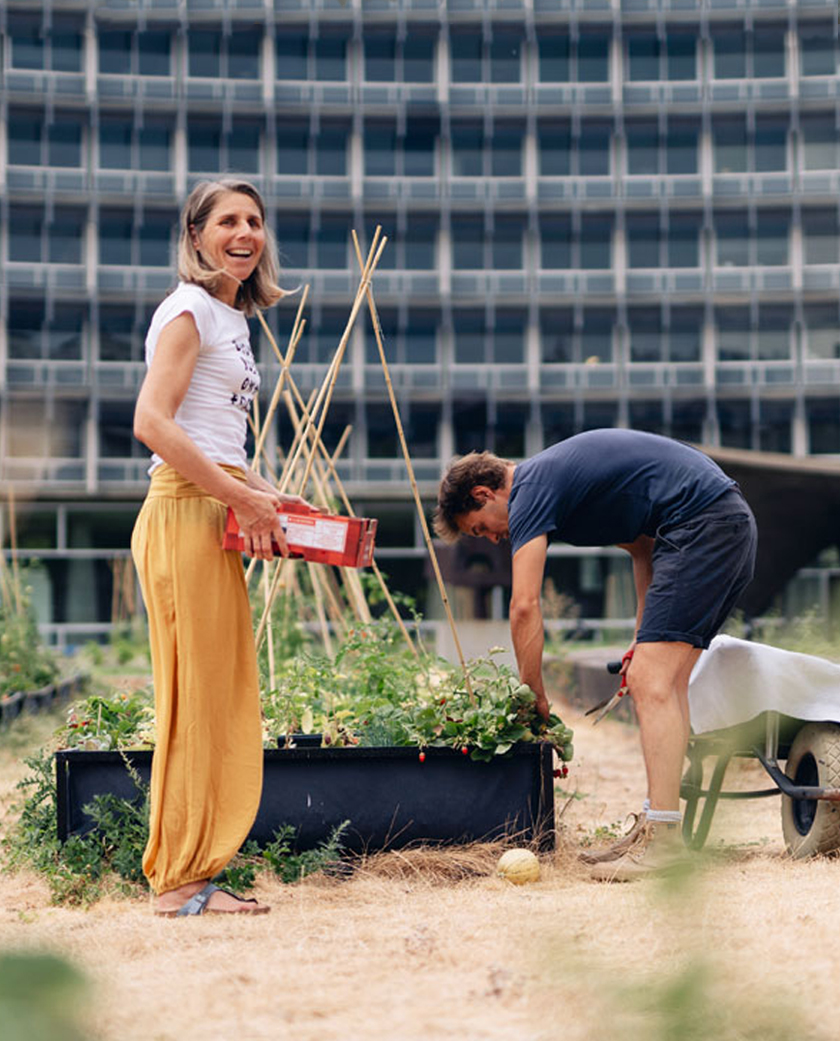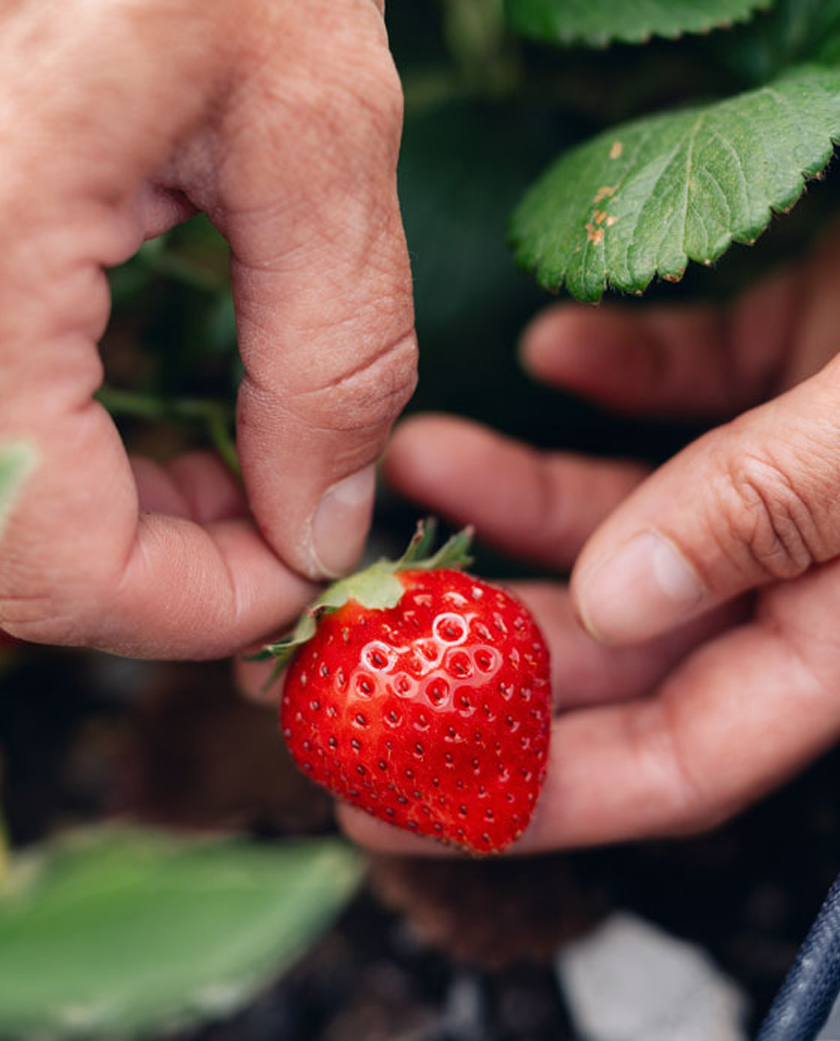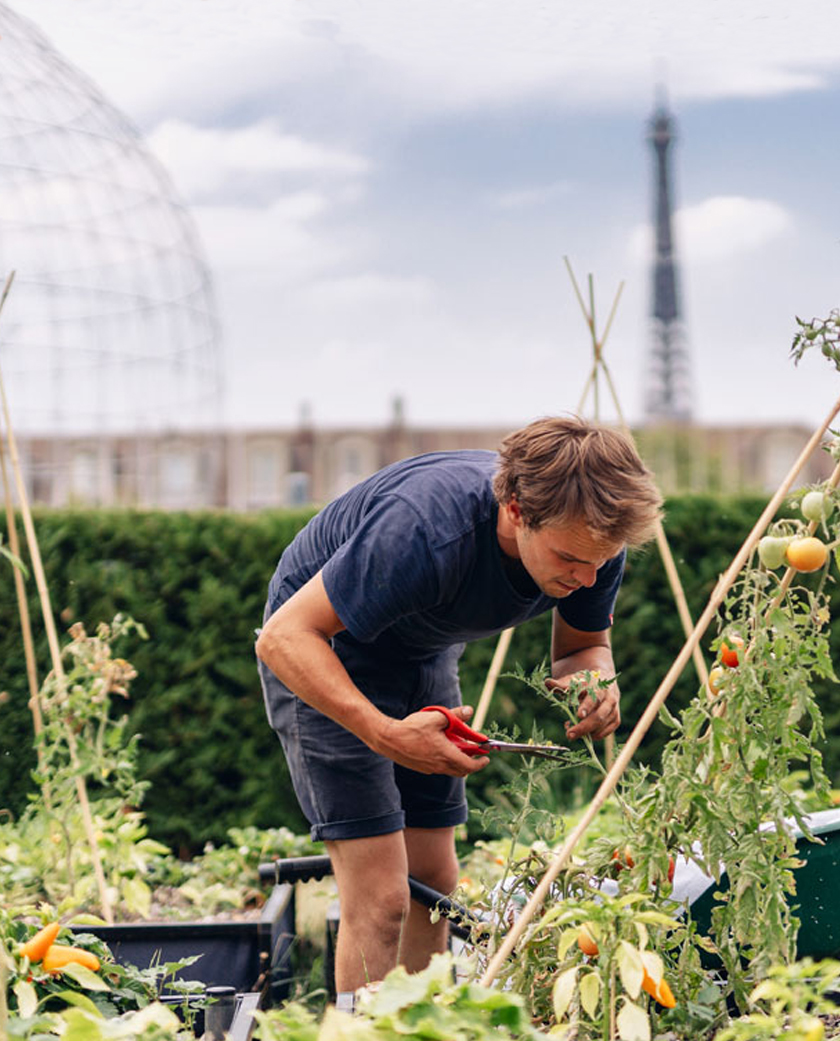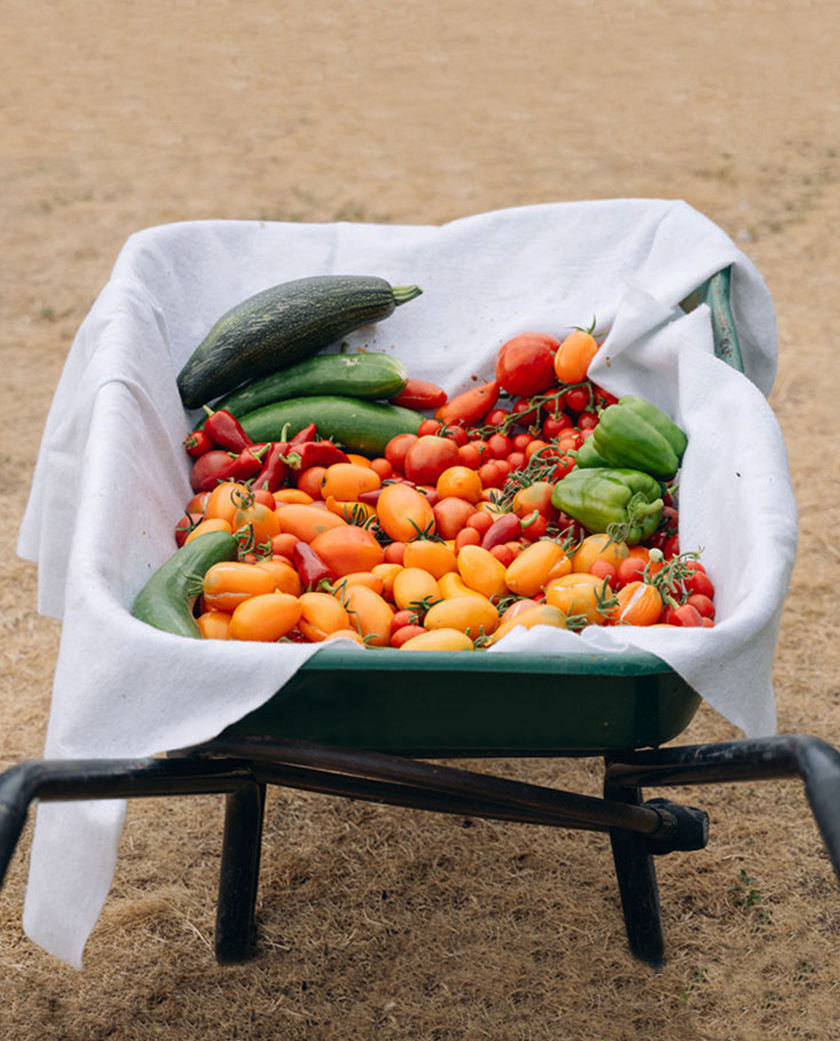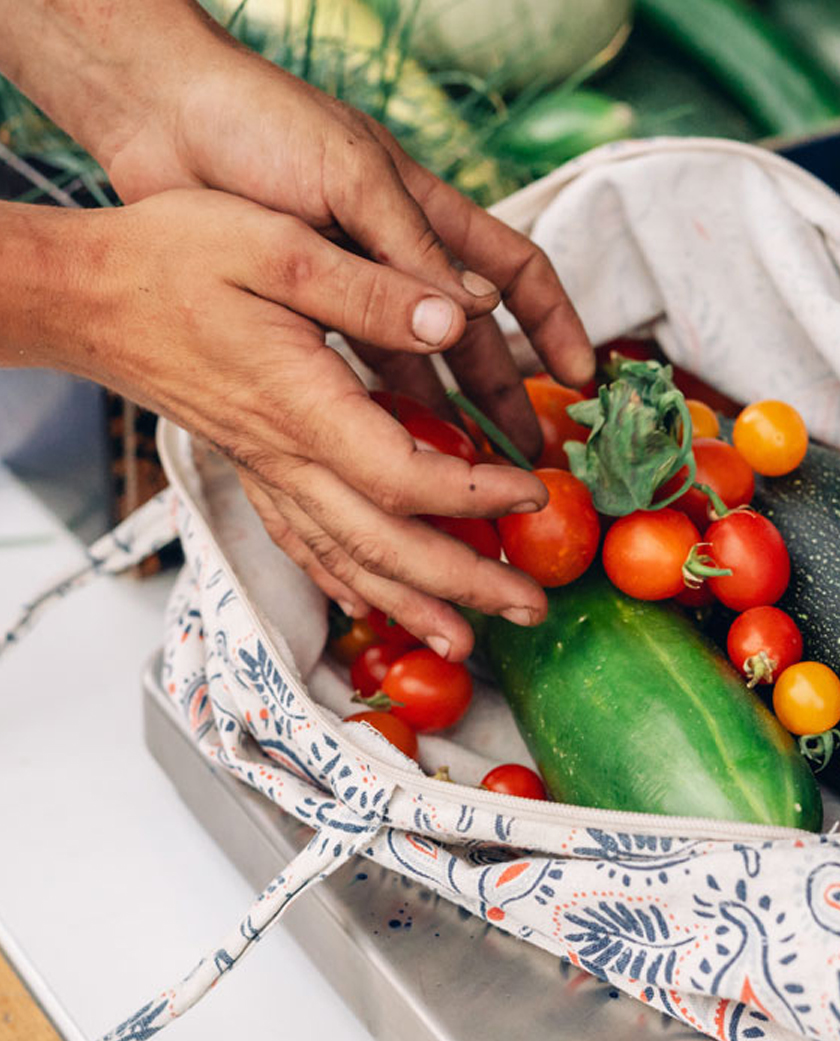 There is a clear before and after for the plaza of the Paris headquarters of UNESCO (United Nations Educational, Scientific and Cultural Organization). Up until mid-March 2020, this huge area in the heart of the city was devoid of any eye-catching elements, apart from the imposing work of artists such as Henry Moore and Alexander Calder.
There is no comparing the before and the after: this 2000-square-meter space is now so much richer — in color, in diversity, and in life. There are now tomatoes, zucchini, eggplants, cucumbers, lettuce, cabbage, aromatic plants, and many other vegetables growing at 7 de la Place de Fontenoy. You read that right: Noocity has added a huge project at UNESCO Headquarters to its portfolio.
It all started with Parisculteurs, a competition launched by the city of Paris which gives farmers, gardeners, landscape architects and entrepreneurs the chance to develop projects to bring more nature into the city. The goal was to design a project transforming unused urban spaces into biodiversity, to raise awareness about environmental sustainability, and to promote a sense of community and a healthier, more active lifestyle.
Faced with this vast space at UNESCO Headquarters, Noocity rose to the challenge — and succeeded! Winning the competition, Noocity installed 155 raised garden beds in just four days in March 2020, completely transforming the layout and use of the space. Ever since the installation, a Noocity Grower has been in charge of the maintenance, production and presentation of the vegetable garden.
UNESCO's employees are enthusiastic about this new space, which can be seen in their curiosity during each exchange with Tim, the garden coordinator. Many believe that the spirit of the plaza has changed and that the space is finally being used wisely.
At UNESCO, they now have the pleasure of rediscovering the true taste of locally grown food, without pesticides or synthetic chemicals, harvested within the hour. In fact, they've set up a subscription system for vegetable baskets, which proved to be extremely popular: all 50 spots were filled in the blink of an eye, and there are dozens of people on the waiting list for next season.
In addition to introducing biodiversity in the city and promoting urban green spaces to combat climate change, the company culture has also improved thanks to their new garden. Participants can create a new relationship with nature, get their hands dirty and feel all the benefits of gardening — calming stress or symptoms of anxiety, increasing motivation or simply sharing a moment of teamwork and friendliness. Understanding the food cycle, from its sowing to its harvest, is a way to bring us closer to nature and appreciate its value.
In the vegetable garden, not only can employees learn about agriculture, but those working in person have become more active in their workplace. They feel better, because they now have a beautiful, lively space nearby where they can walk.
That's the power of a workplace garden — and to feel the benefits, you don't need 155 boxes. Whether on a terrace, a courtyard or a balcony, you'll feel it in your work, regardless of how many gardens your space can fit.
A transition program
centered around a community garden.
Get in touch with us, we're looking forward to seed this idea with you.
UNESCO edible garden
Check it out, how we set up this super garden in less than 4 days!