Recipes from the garden: Beet risotto with porcini mushrooms.
Mediterranean cuisine is closely connected to the principles of sustainability, the use of local and seasonal products, as well as vegetables, plants, and other aromatics picked from the garden.
That's why at the SOMOS Restaurant & Lounge at the Crowne Plaza Porto hotel — whose menu is based on this cuisine, considered one of the richest and healthiest in the world — many of the products that make up their tasty dishes come right out of Noocity Growbeds. And that makes all the difference: these products, as chef Jorge Silva assures us, have an authentic taste and a much higher quality than other products on the market. Beets, central to the recipe below, are a perfect example: those grown in the garden are sweet, whereas others often have an intense earthy taste.
A relationship with the garden is a dynamic one, so SOMOS has had to adapt. As the chef explains, they used to plant a wide variety of products and, over time, realized that wasn't working. They needed to make more "assertive," focused choices, as there was food waste and not enough time to take care of certain vegetables that required more attention, especially in the summer. So two criteria were established: among the products that are staples in the restaurant's kitchen at the Crowne Plaza Porto, cost-effectiveness and demand became the factors for selecting what grows in the garden. Thus, at the restaurant, lettuce, tomato, parsley, coriander, fennel, chives, thyme and rosemary are always sent directly from the growing containers to the kitchen. Oh, and of course, let's not forget beets, the star of this risotto recommended by Jorge Silva, that you can make at home.
Beet risotto with porcini mushrooms
Ingredients (for 4 people):
10g of dehydrated porcini mushrooms
100g of onions
2 cloves of garlic
1 bay leaf
10g of chives
160g of arborio rice for risotto
0.5dl of olive oil
0.5dl of white wine
500g of mini beets from the garden
40g of fresh parmesan
40g of butter
to taste: quality balsamic vinegar
How to prepare the beet risotto.
Soak the dehydrated mushrooms in water for 6 hours. Wash the beets, wrap them in aluminum foil and put them in the oven at 160ºC until cooked. Remove from the oven, peel and cut into cubes.
Sauté the onions, minced garlic and bay leaf with the olive oil. Add the rice and let it become translucent. Deglaze with the white wine. Gradually add the mushroom water and the mushrooms, stirring constantly. In a separate pan, sauté the beets in butter and add them to the risotto once cooked. Finally, add the grated parmesan and butter to the risotto; mix well. Sprinkle with chopped chives and a few drops of balsamic vinegar.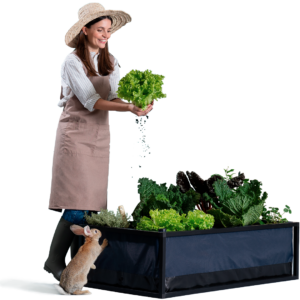 Everything you need
to start growing.