Mountain Path, ground yourself even in the heights.
We caught up with Laurence Bret Stern, former LinkedIn marketing director and CRO of Pipedrive, who is taking us to new heights with her newest project, Mountain Path. What Noocity does in the garden is a lot like what Mountain Path does in the mountains: connecting people and organizations with themselves, with each other, and with the planet.
The mountain ecosystem.
For over 200 years, high-altitude guides have been leading their teams to new heights, combining technical expertise, risk management and interpersonal intelligence. Meanwhile, elite mountain rescue units have developed an exceptional ability to use their individual strengths in service of the collective and of the most powerful vocation there is: saving lives. These professions, like the entire mountain ecosystem, have had to change their practices and guidelines to cope with the dramatic effects of climate change — shifted seasons, more unstable terrain, rock falls, and melting glaciers and permafrost.
Mountain Path drew on those experiences to build management and collaboration models for sustainable business performance. We are convinced that transforming organizations is no longer an option — it's now a question of transitioning to a new paradigm that surpasses the simple economic model and takes into account the environment and stakeholders.
Mountain Path, learn from altitude.
Based in Chamonix-Mont-Blanc, the company collaborates with various organizations to develop "enlightened, resilient and responsible" leaders. The objective is to make them aware of their strengths, but also of their vulnerabilities, reinforcing their commitment to the way they relate to the world and to themselves.
And what could be more effective than real-life experience in the middle of nature to uncover each other's strengths and skills and ignite a desire for change? On the way to the mountaintop, at the foot of a glacier, those titles and roles fade away and leave only the person — CEO, CFO, CMO or project manager, it no longer matters. And naturally, solidarity is a crucial part of a team when it comes time to overcome an obstacle or provide mutual support, without having to dwell on team cohesion.
Returning to nature is also an experience with oneself. It's a bodily experience, since by travelling through our standardized and outlined urban environments (especially by car) we tend to lose our proprioception, or the capacity, conscious or unconscious, to know the exact position of each of our limbs. It's a sensory experience, as we long to reach for a distant horizon, to marvel at the beauty and strength of nature, to feel and sense the environment, to listen to the squeaks, creaks and sounds of the wind. And finally, it's a spiritual experience, because as Michel Serres reminds us, the mountain, like the oceans and the desert, is a place where humans cannot live and therefore can only pass through
Mountain Path: experiential learning.
We provide these experiences to executives, managers, employees, and students (last August we welcomed the entire new class of HEC Grande Ecole) by taking them on an expedition from valley to glacier, filled with targeted activities and inspiring encounters. Our clients experience the frugality of a night in a refuge, the spirit of a climbing team, the commitment of a climb, the intensity of a first aid intervention, the emotion of a ridge crossing, the bitterness of leaving the glaciers, the adrenaline of a frozen waterfall, the beauty of a sunrise between the pines…
We have accompanied over a hundred organizations, of all sizes and all sectors, and are convinced of the advantages of experiential learning over traditional teaching, no matter how sophisticated. Yet our greatest achievement will always be the happiness our participants feel when they find themselves, personally and collectively, in a majestic and fragile setting, and the birth of their awareness of each's responsibility towards it.
For our part, we subscribe that it is really out there and in contact with nature that we can evolve more and in a more sustainable way!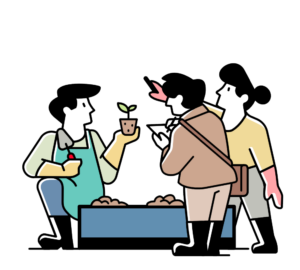 A transition program centered around
a corporate garden, to connect with
yourself, others and nature.