How to create your balcony garden.
Living in the city with access to a porch or a balcony, you may still often dream of greenery and flowers, but also of growing your own vegetables and herbs. Setting up a garden on a city balcony, even a small one, is possible! It requires a bit of organization and imagination, but you can easily transform your balcony into a vegetable garden! Here are some tips.
What to know before arranging your balcony.
Start by studying the surface area of your balcony and the amount of sun it receives. Do you want to use only part of the space for gardening, or all of it? Make a little blueprint with the balcony's exact dimensions: this will help you plan and visualize your future garden. It's equally important to know your balcony's sun exposure. You won't be able to properly grow the same vegetables on a North-facing balcony and a South-facing one. You should also consider your access to water: is it nearby, or will you have to cross your entire apartment with a full watering can? Consider your balcony's weight capacity and your building's particularities as well.
Building your balcony garden.
You're familiar with your usable space: now get ready to choose containers for your herbs, vegetables and berries. You can use traditional pots you already own for many different crops. If you want to get into the cultivation of carrots or leeks, Noocity containers are deep enough to grow any root vegetables. You can also raise your pots and containers for better sun exposure, or put them on wheels to facilitate cleaning and allow you to rearrange the space.
Choose a substrate that is suitable for growing vegetables, ideally an organic one. The Noocity Vegetable Garden Kit is delivered to your door with an easily hydrated substrate and an organic fertilizer that follows the rules of organic agriculture. No heavy bags or dirt to carry! To garden on your balcony, you need very few tools: a trowel, pruning shears, and a watering can!
What should I grow on my balcony?
On a balcony, you can grow almost anything: from tomatoes to strawberries, from leeks to kale, from radishes to arugula, from carrots to watermelon! It's just a question of organization, learning, patience and climate! You can reproduce a natural ecosystem on your balcony, plant compatible vegetables and flowers to attract pollinating insects, and make your own compost to nourish your substrate. Like with any garden, you'll have to adhere to the seasons and to plants' compatibilities — but most importantly, enjoy the process!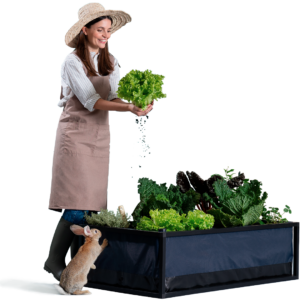 Everything you need to
start growing at home